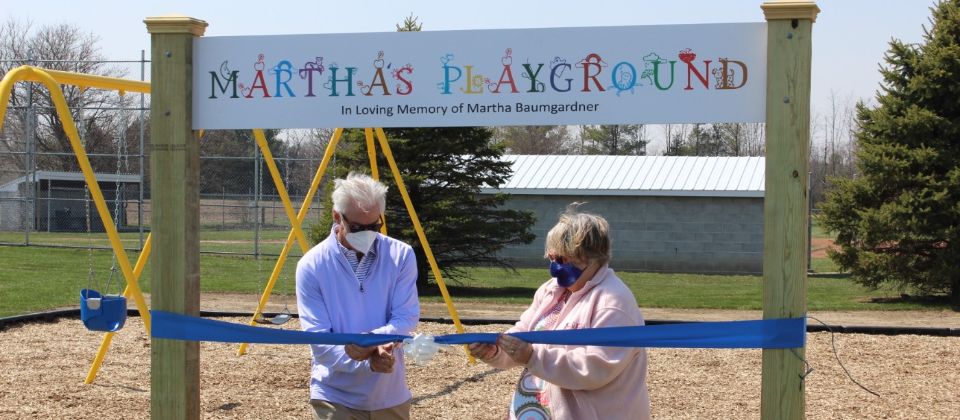 "Martha's Playground" Grand Opening
by JCC
on April 14, 2021
On Saturday, April 3rd, Jamestown Christian Church held a grand opening ceremony for it's newest addition to the Virgil Benge Community Sports Complex. A new 60' x 40' playground area complete with a new swing set that includes three regular swings and one infant swing as well as a new play structure that includes two separate slides, small tunnel, climber and sliding pole as well as musical bells and a driver's panel on the ground level. There will also soon be picnic tables in the nearby Shelter House and a bench where parents can relax and watch their children play.
This new playground area is named "Martha's Playground" in loving memory of the late Martha Baumgardner who was a long-time active member of Jamestown Christian Church. This project was made possible by grants from the Greater Jamestown Area Fund, Boone R.E.M.C. "Operation Round-Up" and a generous donation from the family of Martha Baumgardner.
"We have prayed for a new playground for over five years, especially considering that we have had an increasing number of baseball teams use our facilities", stated Senior Pastor Scott Ailes. "Miraculously, God brought everything together in about a 3-month period late last year and here we are! We are very excited to add this awesome playground for our community to use."
The Jamestown community is invited to come out and enjoy "Martha's Playground as well as other areas of the Virgil Benge Community Sports Complex including the Witham Walking Trail which is a beautiful trial that encompasses the entire west side of the campus. If anyone has any questions about the use of any area of the Virgil Benge Community Sports Complex, please contact Jamestown Christian Church at info@jamestownchristianchurch.net.
back